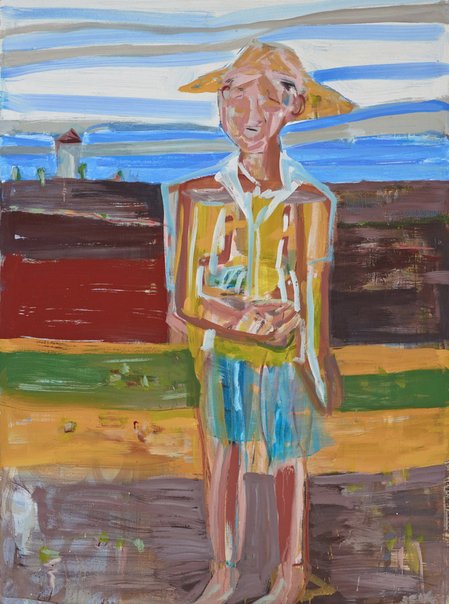 Joe Furlonger
Self-portrait at Moree
Medium

acrylic bound pigment on canvas

Read label text

Joe Furlonger has been painting a series of landscapes in the Moree area so decided to do a self-portrait in the same rural setting. 'I've been working in the area sporadically for a good 15 years. In the last year I have been really concentrating on it again,' he says. 'I find myself strangely attracted to the landscape with its big, flat plains. I find it exhilarating. So it's a bit of a take on the farmer-like figures out there.

'It's that grain field style of painting and, of course, I would have looked at other grain field painters like Sidney Nolan. I wanted a single figure in that landscape. I like to keep my figurative work going. A year ago I did a series of self-portrait heads so it's on-going.'

Furlonger says that in this painting he was primarily concerned with capturing the feel of the place. 'I gave up some of the realism, with more emphasis on the feel of the place than any physiological aspects. It's like those portraits where the setting and the background have the meaning.'

Born in Cairns in 1952, Furlonger is one of Australia's leading landscape artists. He won the Fleurieu Art Prize for landscape painting in 2002 and the Moet & Chandon Fellowship in 1988 as a result of which he spent a year in France. He has been in numerous group shows including the Wynne and Sulman Prizes. This is his ninth time as an Archibald Prize finalist.