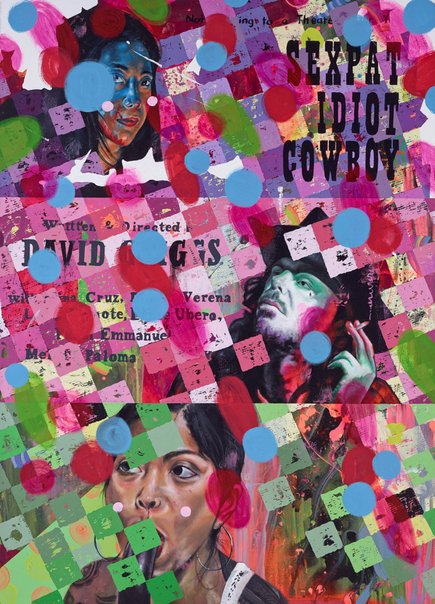 David Griggs
Not a sexpat idiot cowboy painting
Medium

acrylic on canvas

Read label text

In 2013, David Griggs produced a self-portrait short film titled Sexpat idiot cowboy. His artist's statement for the film read, in part: 'I am a sex addict with a serious drug problem who dreams of being a cowboy! I play the sexpat, the idiot, the cowboy. I am the sexpat, the idiot, the cowboy. In a hostage-like situation two beautiful women Mina Cruz and Dha E Verena torment me for being a white sexpat with bad dress sense. After realising that I have no money to pay their ransom they slowly cut my head off with a blunt machete. It's pure comedy!'

This painting was 'a natural step to take after making the film,' says Griggs. 'I have been fascinated with movie posters from the 1960s and 1970s for years; the way imagery was cut up and re-coloured by hand to form the most spectacularly wild compositions while at the same time creating some sort of narrative within a poster format. I wanted to recreate this way of working using high-key colours, gridded up compositions for each actor and 1970s-style typefaces.'

Born in Sydney in 1975, Griggs has studios in Sydney and Manila. This is his fourth time as a finalist in the Archibald Prize.