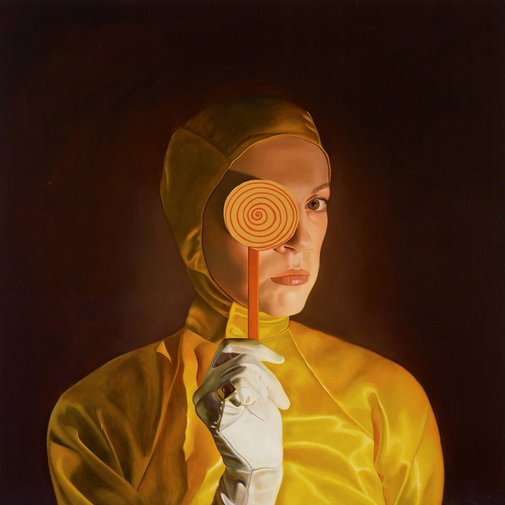 Rebecca Hastings
The onesie
Medium

oil on board

Read label text

'It's difficult to take anyone seriously when they are wearing a onesie,' says Rebecca Hastings. 'In this self-portrait I mock my own inadequacies as a mother and lament the struggle to also be an artist. Instead of a paintbrush I hold aloft a lollypop-like object, satin gloves replace my usual hand protection, and the painter's apron becomes instead a shimmering onesie.

'As a mother of two children I find myself constantly beset by guilt, frustration and anxiety. I consider myself ill-equipped and a bit of a joke when it comes to meeting the lofty, idealistic heights of mummy perfection. This painting is part of a broader exploration of themes relating to "maternal ambivalence", reflecting my desire to subvert the romantic ideal of motherhood, and chart the unacknowledged, darker side of the complex and contradictory experiences that come with having children.'

Born in South Australia in 1969, Hastings paints from her home studio in the Adelaide Hills. In 2011, she graduated from the Adelaide Central School of Art with a Bachelor of Visual Art (Honours). Since then she has exhibited in four solo shows and 10 group shows. She was the winner of the 2012 South Australian Living Artists Festival Award at the Helpmann Academy Graduation Exhibition, the Pleysier Perkins Acquisitive Art Prize and a finalist in the Eutick Memorial Still Life Award.

Hastings also has a work in the Sulman Prize this year – the first time she has been selected in either competition.