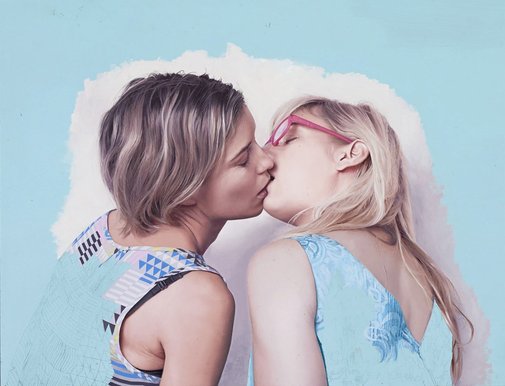 Sophia Hewson
Artist kisses subject
Medium

oil on board

Read label text

Sophia Hewson has painted herself with Missy Higgins, a popular ARIA Award-winning singer/songwriter and actress. 'I sought out working with Missy because I belt out her songs in the car,' says Hewson. 'I also know her to be genuinely egoless with a deep respect for artistic autonomy, which meant she was willing to work with me outside the traditional portrait structure.

'I've been thinking about the proximity of the orgasm to death and spiritual revelation. In my work I've been considering the orgasm as a kind of transcendence, and using metaphors like "orgasming against something plastic" to explore the human experience of when revelation falls short and faith is not found. In this painting it is the constructed nature of the intimacy that suggests ecstasy is just out of reach. I wanted to create something equally portrait, self-portrait, and an examination of post-feminist self-objectification.'

Born in Cambridge, UK in 1984, Hewson completed a First Class Honours degree at the Victorian College of the Arts in 2007. She works with painting, sculpture, installation, and performance art. Named by Art Collector in 2011 as one of Australia's most collectable artists, she was a finalist in the 2013 Portia Geach Memorial Award and Fleurieu Landscape Award.