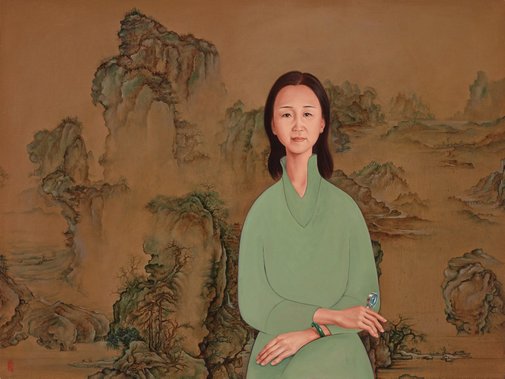 Dapeng Liu
Portrait of Yin Cao on blue-and-green landscape
Medium

oil on linen

Read label text

Yin Cao is curator of Chinese art at the Art Gallery of New South Wales. She trained as an archaeologist at Harvard University and Peking University. Before moving to Australia in 2006, she studied and worked as an art professional in China, America, Japan and Singapore.

Intrigued by the Eastern-like background in Leonardo da Vinci's Mona Lisa, Dapeng Liu had the notion of integrating Chinese and Western forms in one painting. Observing Yin Cao's skill in melding such concepts, he had his sitter. His challenge was to balance the exquisite detail of classical Chinese landscape painting and the immediacy of Western practice. His background has influences of the Song Dynasty (960–1279) style and of da Vinci.

'The magnifying glass represents the sitter's profession, while also symbolising the viewer's quest for the finer details,' says Liu. 'The garment's hue captures the precious Chinese porcelain of the imperial Ru kiln. Its blue-green tint is the sky after rain in the lower Yangzi River. The elongated figure is redolent of Modigliani and the elegant form pursued by Chinese literati in the Northern Wei dynasty (386–534 CE). In a tribute to his adopted city, Liu includes Sydney's skyscrapers.

Liu is working on his PhD thesis in art history at the University of Sydney. Born in Beijing in 1982, he was trained by his father to sketch from age four. Long fascinated by difference and similarity, he is drawn to blending these two great civilisations on canvas.