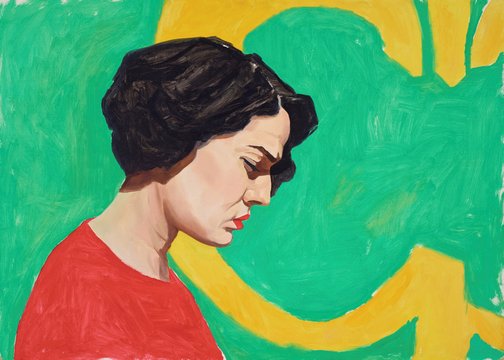 Bridgette McNab
Grace
Medium

oil on board

Read label text

Grace Hellyer recently completed a PhD in literature and currently lectures at the University of New South Wales. She is looking into founding an independent school of critical theory in an attempt to expand the increasingly scarce opportunities for research in the humanities.

'I recently met Grace through a mutual friend and we had an interesting conversation about film and the relationships between image and narrative – the catalyst for this painting,' says Bridgette McNab. 'Grace has a timeless face with strong features and I found myself thinking within minutes of meeting her that I needed to paint her portrait. After our lengthy conversation about film, I was drawn to the idea of creating a painting that had connotations of a film still.

'The background is an appropriation of a 1970s painting Yhap by one of my favourite British artists, Euan Uglow. I am drawn to this work mainly for its surface qualities – its flatness, sense of immediacy and also because of the ambiguity of the space. I chose to paint Grace on board to highlight these qualities.'

Born in Queensland in 1985, McNab lives and works in London. She has a Bachelor of Fine Arts (Honours) from the National Art School in Sydney. Her work explores recurring themes of portraiture and floral still lifes. She has been a finalist in the Portia Geach Memorial Art Award and the Doug Moran National Portrait Prize.