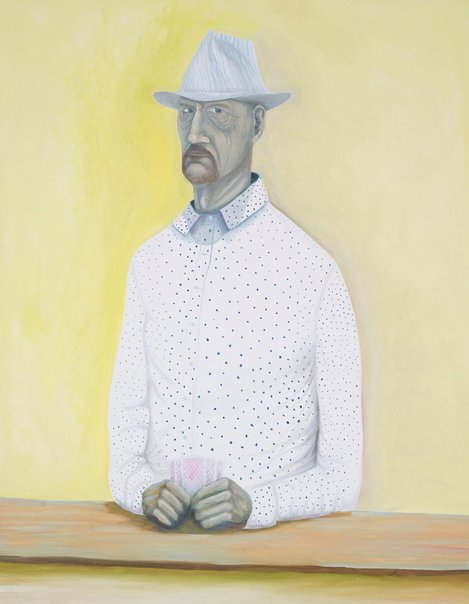 Paul Mallam
The card player
Medium

oil

Read label text

'Nights in my grandparents' farmhouse were spent playing cards,' says Paul Mallam. 'As a young boy it was a rite-of-passage to be admitted to the table, sometimes to mind my grandmother's hand while she made tea, and eventually to be dealt my own hand. Perhaps because of this, I have always loved Paul Cézanne's series of paintings of card players. The players are familiar, yet also enigmatic, as we all are to each other.

'In the 21st century most of us assume multiple identities, a little like playing cards. My own work as a lawyer particularly requires me to play many roles. My self-portrait is about all these things: my passage from a young boy desperately wanting to play at the adult's table to a middle-aged man with a weathered face.

'I painted myself in a hat and patterned shirt as I have a large collection of both. The pork pie hat is the kind of flash thing my father would have worn, connecting my older self with the young man he once was. I look across the table with the guarded, questioning countenance shared by lawyers and card players.'

Mallam is a practising lawyer, a director of the Australian World Orchestra and is currently studying at the National Art School. He has been a finalist in several of Australia's photographic portrait prizes. This is his first Archibald Prize entry.