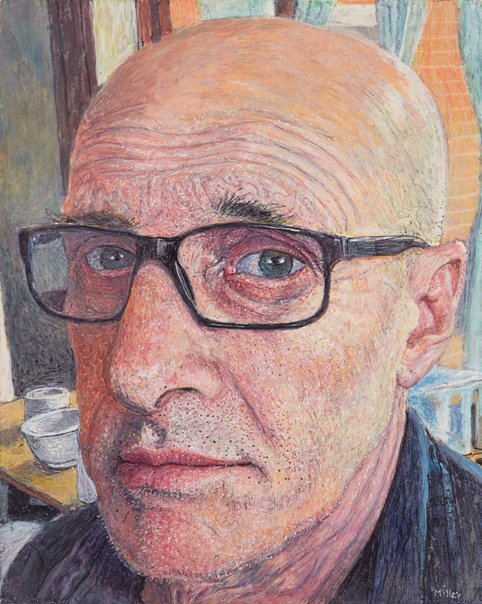 Paul S Miller
Greg (Greg Warburton)
Medium

egg tempera on wooden panel

Read label text

The subject of Paul S Miller's painting, artist Greg Warburton, has himself been an Archibald Prize finalist six times. His work is represented in the National Portrait Gallery, Canberra, and he has also spent many years working for people with disabilities. 'I have known Greg for more than 20 years and admire not just the skill and intelligence with which he approaches his portraits and exquisitely rendered black and white drawings, but more importantly his deep curiosity for life and his great compassion,' says Paul Miller.

'The portrait of Greg is done in egg tempera on a wooden panel only 25 × 20 cm. Within this small and intimate space I wanted the viewer to feel very close to him, as if engaged in a private conversation. The clarity of the fine brushwork, the building up of crosshatched marks and small washes of transparent colour that refine and adjust the surface are most important. The strength of the portrait, I believe, lies in the moment of engagement between viewer and subject.'

Miller was born in Canada and came to Australia in 1987 to undertake a Master of Fine Arts degree at the Centre for the Arts, University of Tasmania. Living in Sydney since 1989, he has held nine solo exhibitions in Australia and Canada. He has also exhibited in numerous group shows here and abroad and was a finalist in the 2005 Wynne Prize, 2000 Sulman Prize and 2013 Doug Moran National Portrait Prize.