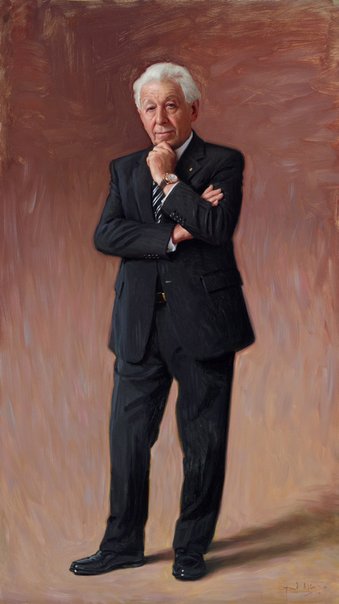 Paul Newton
Portrait of Frank Lowy AC
Medium

oil on Belgian linen

Read label text

Czechoslovakian-born Frank Lowy is a hugely successful businessman who co-founded the Westfield Group. A leading philanthropist, and known for his passionate support of Australian soccer, he has been a trustee at the Art Gallery of New South Wales since 1988 and was president for the first eight years.

'Wishing to avoid the limelight, he was initially a little reluctant to sit, but once he agreed Frank Lowy was enthusiastic and extremely generous with his time,' says Paul Newton. 'The pose he adopted was one of a number I explored with him. I was looking for something natural and authentic that suggested a pensive nature but at the same time alluded to his strength and decisiveness.

'His hand rests on his chin as if weighing up an argument. The slight distancing effect of his arms in front of his body is offset by his direct gaze, while the body language of his left foot pointing forwards further emphasises the link with the viewer. His visual presence is so strong I didn't feel it necessary to add anything in the background.'

Born in Sydney in 1961, Newton is a well-known portrait artist. This is his 11th time as an Archibald Prize finalist. In 2001 he won the People's Choice Award and the Packing Room Prize. He has twice been a finalist in the Doug Moran National Portrait Prize and twice won first place in the Portrait Society of America's International Portrait Competition.