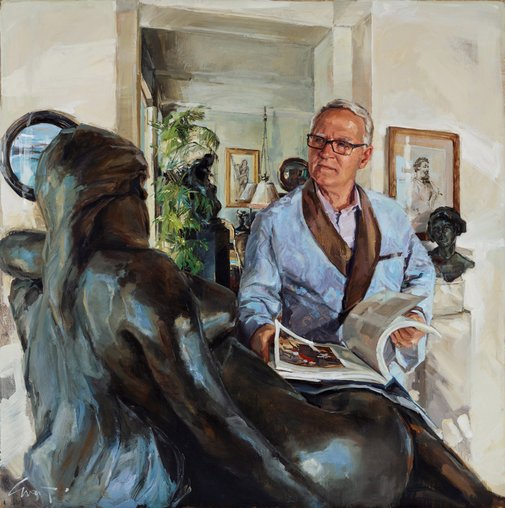 Evert Ploeg
John Schaeffer AO – art collector and philanthropist
Medium

oil on linen

Read label text

John Schaeffer is a distinguished art collector with a particular passion for painters and sculptors of the 17th to 19th centuries. Over the years, he has donated many works to local and international museums.

'I met John in 2000. We connected over our love of figurative art and a mutual Dutch heritage. I was invited to view some of his treasured pieces at his home, where I was totally awestruck by his fabulous art collection,' says Evert Ploeg. 'Recently, while visiting him at his new home, he showed me around wearing his dressing gown/smoking jacket. The eccentricity and relaxed nature of his image struck me and formed the genesis of my portrait.

'I have painted John immersed in his art, the large reclining bronze nude by Cyrus Dallin forming one of the main shapes in the work. To the right, a small bust by Thomas Brock, a portrait of Lord Leighton by GF Watts and in the background, a pencil rendering of Joan of Arc by Henry Wallis. I kept these works in a neutral palette to bring focus to the sitter.'

Born in Sydney in 1963, Ploeg caused Archibald controversy in 1997 with a portrait of Bananas in Pyjamas. Since then he has won two People's Choice Awards and the 2004 Packing Room Prize. Recently he toured nationally with the acclaimed Big hART production Namatjira, painting portraits of the lead actor live on stage.