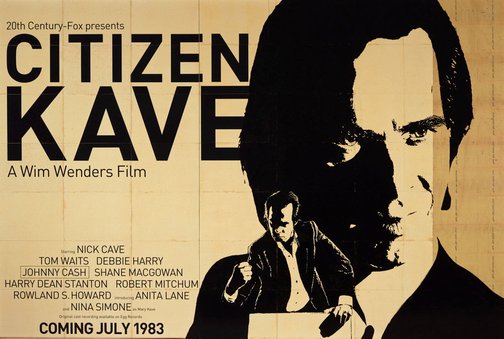 James Powditch
Citizen Kave
Medium

mixed media

Read label text

'I want to stop people in their tracks with this work and have them scratching their heads, thinking "that's one hell of a film, how come I don't remember it?"' says James Powditch. 'Then when the penny drops that it's all make believe, that it's a "what if" picture from 30 years ago, they'll start thinking about what they were doing back then, remember all the influences and events in their own lives, all the stuff that moulds us over time and makes us who we are.

'Artists like Nick Cave gather all that stuff up: a book from here, a great film from there, music and art. It's all repackaged and sent out into the world where it is evaluated, absorbed and informs the next generation. He becomes an influence – or if they saw him, maybe a pivotal moment in their lives – and the process just keeps rolling along, repeating endlessly.

'So the painting represents an imaginary rock opera made in 1983 when Cave was 26 years old, the same age as Orson Welles when he made Citizen Kane in 1941. But it's about a modern-day media tycoon, Rupert Murdoch rather than William Randolph Hearst. I see Cave and Welles as similar, extraordinary talents, across multiple disciplines.'

Born in Sydney in 1966, this is the fourth time Powditch has been an Archibald Prize finalist. He is also a finalist for the eighth time in this year's Wynne Prize.