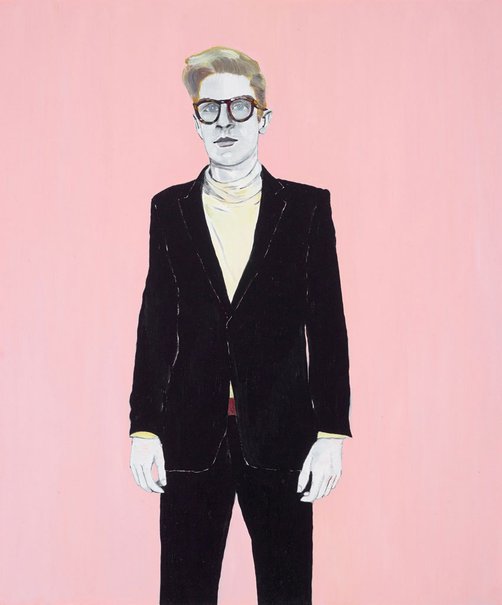 Sally Ross
Harvey
Medium

oil on wood panel

Read label text

Harvey Miller AO is a musician/artiste/showman and one half of the band Client Liaison. 'His elaborate corporate narratives and performances combine beauty, brains and youthful hedonism with rump-shaking, turn-of-the-nineties synth pop, blurring the line between art and pop, performance and cultural satire,' says Sally Ross. 'When I first saw his epic Aussie montage music video End of the Earth, I thought I had just experienced the work of Barry Humphries' secret love children. Harvey and lead singer Monte Morgan have featured in my paintings ever since.

'I want to paint clever people that I get to meet in my life, creative people that dare to make the leap of faith required to make art, perform, put their ideas out there. This is a labour of admiration and enthusiasm. My portraits are about asking what do clever people look like? Can a picture have a presence? There is a particular, quite intimate scrutiny created when you paint someone. When I do the "reveal" and show the sitter their portrait for the first time it is completely awkward and wonderful.'

Born in Melbourne in 1969, Ross is known for her landscapes and portraits. A self-confessed 'art-monster', she has run an artists squat in an abandoned 17th-century hospice, worked for the Festival d'Avignon theatre festival and for one of the most innovative private art collections in France (where she lived for eight years) before her return to Australia. She exhibits regularly in Australia and France.