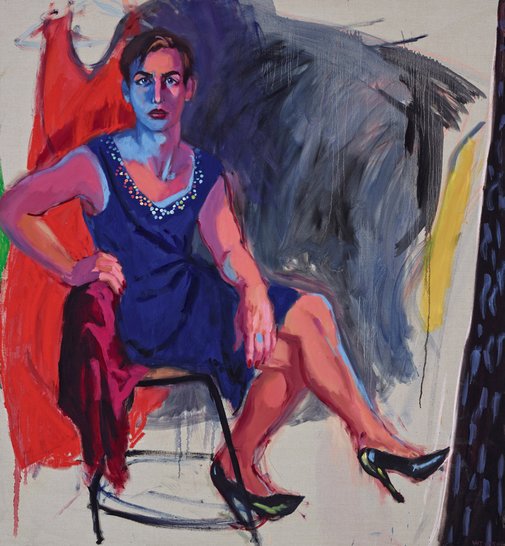 Wendy Sharpe
Mr Ash Flanders, actor
Medium

oil on linen

Read label text

Ash Flanders is an actor and a co-founder of Melbourne's acclaimed queer theatre group Sisters Grimm.'I first saw Ash in a production called Little Mercy,' says Wendy Sharpe. 'He played Virginia, the mother of an evil seven-year-old girl. Although it was crazy and surreal, Ash played her absolutely straight. It is really moving when something can be ridiculous, funny and poignant at the same time.

'Ash has now been cast as Hedda Gabler, the female lead in Henrik Ibsen's famous play at Belvoir Street Theatre: a brave and exciting choice. He is not being a drag queen but will play Hedda seriously with intelligence and sensitivity.

'This painting is not about Ash himself but about the uneasy stage persona he will create as Hedda Gabler. The disturbing mix of masculinity and femininity was what excited me to paint the picture. Ash understood exactly what I was after. We worked together in my studio trying different poses and clothes (my dresses, his shoes) to get something intriguing and unnerving, vulnerable and powerful. I was thinking of the paintings of Edvard Munch who, like Ibsen, was Norwegian.'

Born in Sydney in 1960, Sharpe lives and works in Sydney and Paris. She has had over 40 solo exhibitions and has been awarded the Sulman Prize in 1986, the Archibald Prize in 1996 and the Portia Geach Memorial Award twice. In 1999 she was commissioned by the Australian War Memorial to be the official war artist in East Timor.