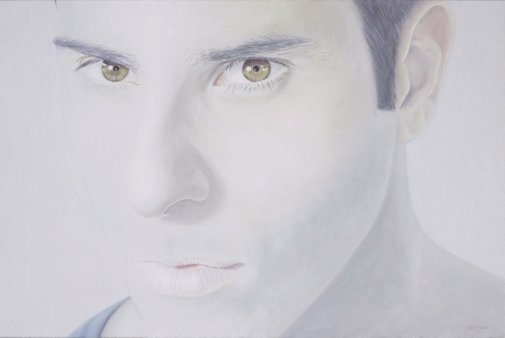 Lee Wise
Zavros
Medium

oil on canvas

Read label text

The subject of Lee Wise's portrait, award-winning artist Michael Zavros, has been included five times in the Archibald Prize himself. Wise has been inspired by Zavros's work since moving to Australia from the UK six years ago. He contacted Zavros about painting him for the 2014 Archibald Prize and was invited to his studio.

'When I started planning to make a painting of Michael I wanted it to be completely about him and not about the luxury goods and clothing that he has become renowned for painting,' says Wise. 'I wanted his face to fill the canvas as this helped lose any distractions and concentrate entirely on the sitter. I wanted the portrait to draw the viewer in and focus on his eyes.'

Zavros's grandfather moved to Australia from Cyprus and was called Zavros as a nickname, meaning 'lefty' or left-handed, which the family then adopted as their surname. 'I have paid homage to this by making the left side of his face dominant in the composition,' says Wise.

Born in the UK in 1975, Wise lives on the Gold Coast. An artisan for over 20 years, he started painting around five years ago. He works by using multiple layers of opaque and transparent paint. His style has been described as ethereal due to the subtle use of colour and soft brushwork. A finalist in numerous art awards, he was awarded runner-up in last year's Doug Moran National Portrait Prize.