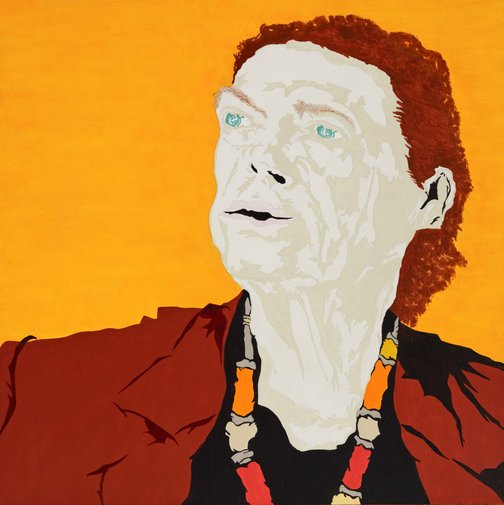 Guy Morgan
Louise Voigt, CEO Barnardos Australia (after retinal detachment)
Medium

oil on canvas

Listen to label text

Read label text

'This work is a tribute to Louise Voigt's 30-year leadership of Barnardos Australia and particularly recognises the vital part her organisation makes in connecting children with their permanent, adopted families,' says Guy Morgan.

'Louise is a powerful, contemporary visionary, a forthright advocate for children's rights and a promoter of the absolute benefits of open adoption. Dedicated and energetic – even in her eighth decade – she has never been a self-promoter. With the benefits to children foremost in her thinking, it has been a rare privilege to portray her as the thoughtful, powerful and forward-looking person she is and to acknowledge her contribution on the eve of her retirement as CEO.'
After suffering a major retinal detachment in late 2011, Morgan has permanently impaired vision: there are no round circles or straight lines when viewing with his left eye. To demonstrate what he sees, he turned to portraiture.

Over the last three years, his work has shifted conceptually into an investigation of what constitutes recognisable identity – without visual fidelity. The finished portraits in the series After retinal detachment retain the essence and familiarity of the subjects, even though their visage has shifted from the normal.

Morgan attended St Martins School of Art and the London College of Printing. After a career in advertising in Sydney, he returned to oil painting in 2003 and gained a Master of Studio Arts at Sydney College of the Arts in 2010. This is his second time in the Archibald Prize.