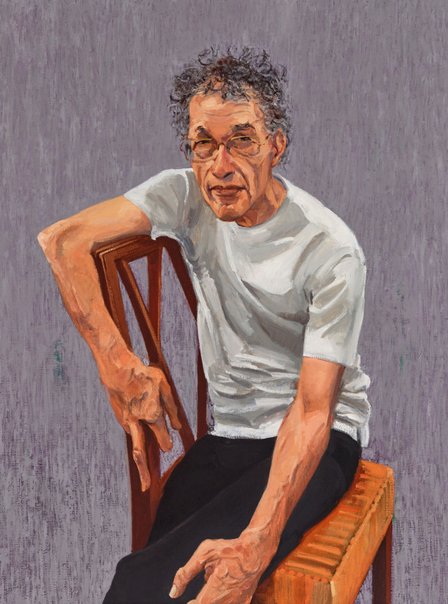 Andrew Sayers
Portrait of Tim Bonyhady
Medium

oil on canvas

Listen to label text

Read label text

Tim Bonyhady is a cultural historian and environmental lawyer and the director of the Australian National University's Centre for Environmental Law. His many books include Good Living Street, which tells the story of his mother's family, the Gallias, who were major patrons of the arts in fin-de-siècle Vienna and fled to Australia following the Nazis' annexation of Austria.

'I had long wanted to paint a portrait of my friend of 30 years,' says Andrew Sayers. 'The portrait is a tribute to Tim's wide-ranging intellectual curiosity as well as an attempt to capture his unique physical presence. The painting is also a visual celebration of Tim's family history chronicled in his widely lauded book Good Living Street.

'The chair was one of a set commissioned by Tim's great-grandfather Moriz Gallia for the family apartment in Vienna in 1913. The only surviving example is in the National Gallery of Victoria. In addition, I wanted the portrait to allude to Gustav Klimt's portrait of Tim's great-grandmother, Hermine Gallia. The grey background, subtly coloured with hints of purple and green, is a direct allusion to the Klimt.

Born in England in 1957, Sayers was director of the National Museum of Australia in Canberra from 2010 to 2013 and the inaugural director of the National Portrait Gallery from 1998 to 2010. In 2013, he moved to Melbourne to paint full-time. In 2014, he had his first solo exhibition and was a finalist in the Doug Moran National Portrait Prize. In 2015, he mounted a large show of landscape painting in Melbourne.