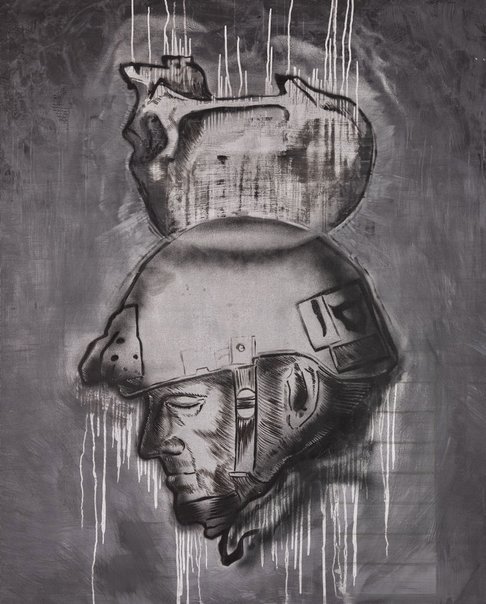 Shaun Gladwell
Mark Donaldson VC (member of the avant-garde)
Medium

acrylic, oil and enamel on canvas

Listen to label text

Read label text

Mark Donaldson received the Victoria Cross in 2009 for rescuing an Afghan interpreter while under heavy enemy fire during the Battle of Khaz Oruzgan. In 2010, he was named Young Australian of the Year.

'I wanted to paint this portrait out of an immense respect for Mark. Also, our lives kept crossing paths and in the end it felt like destiny,' says Shaun Gladwell.

'I was the Australian War Memorial official war artist in 2009 and met members of Mark's regiment in Southern Afghanistan. After returning home, I was commissioned by the Australian War Memorial to produce Mark's official Victoria Cross portrait for their Hall of Valour – the first video portrait of a VC soldier ever made for the War Memorial. I met Mark and was impressed by how humble and down-to-earth he was.

'I kept in contact with Mark. After reading his autobiography The crossroad, I immediately wanted to produce another portrait, but this time, a painting that would symbolically express the metaphysical intersection of life and death. I decided to represent Mark with eyes closed, in internal reflection on personal loss, resilience, sacrifice, valour and of course his great passion for life.'

Gladwell was born in Sydney in 1972 and is now based in London. He graduated from the Sydney College of the Arts and Goldsmiths College, London. He has exhibited widely nationally and internationally, representing Australia at the 2009 Venice Biennale.