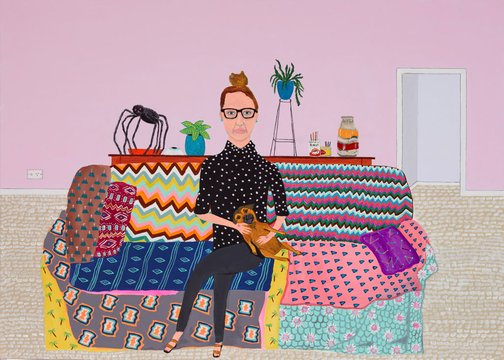 Marc Etherington
Del Kathryn Barton and Magic Dog
Medium

acrylic on canvas

Listen to label text

Read label text

Del Kathryn Barton has won the Archibald Prize twice with a self-portrait in 2008 and a painting of actor Hugo Weaving in 2013.

Marc Etherington first became acquainted with her when she emailed him to buy one of his paintings, and a friendship developed. Plucking up courage to ask if he could paint her portrait for the Archibald, he couldn't believe it when she agreed.

'I chose to paint Del Kathryn Barton because she seemed like a really interesting person and I thought it would be a good way to get to know her and learn more about her practice. I also really admire what she has accomplished,' says Etherington.

He visited Barton in her studio, where he sketched her and took some photographs. 'After seeing the colourful crocheted blanket that covered her couch, I thought it might look good to have Del and her staffie Magic Dog sitting on it,' he says.

Born in Sydney in 1973, Etherington is a self-taught artist living in Gymea with his wife Kate and their two children. He works from home, mainly with acrylic paints. 'I painted Del's portrait on my dinner table,' he says.