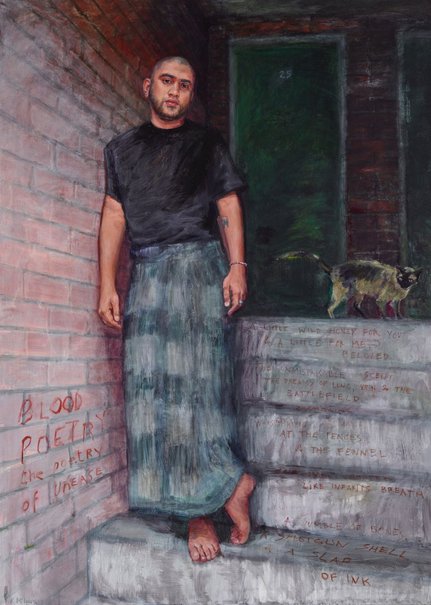 Kerry McInnis
Omar Musa, the poetry of unease
Medium

oil on canvas

Listen to label text

Read label text

Omar Musa is a Malaysian-Australian rapper and poet from Queanbeyan. He is a former winner of the Australian Poetry Slam and the Indian Ocean Poetry Slam. He has released three hip hop albums, two poetry books, appeared on ABC's Q&A, and received a standing ovation at TEDx Sydney at the Sydney Opera House. His first novel, Here come the dogs, was published in August 2014, and was long-listed for the 2015 Miles Franklin Literary Award.

Kerry McInnis has been a family friend of the Musas for many years, but didn't really know Omar until recently. 'As a fan of hip hop, I thought it might be appropriate to portray Omar in a marginalised role of counter-culture advocate,' she says. 'I painted his portrait listening to his rap albums and included phrases from one of his poems, Blood poetry, graffitied onto the stairs of his apartment. His cat's name is Sinbad.'

Born in Hawaii in 1952, McInnis came to Australia in 1974. She studied fine art at the Sorbonne in Paris and has a double degree in fine art and French from Vermont, US, and a Masters in Art Conservation from the University of Canberra. She has had seven portraits in the Portia Geach Memorial Award and was in the Salon des Refusés in 2009 and 2010. She was a semi-finalist in the Doug Moran National Portrait Prize and had a work in the 2014 Australian Portraits Exhibition at the Australian Embassy in Washington, DC.