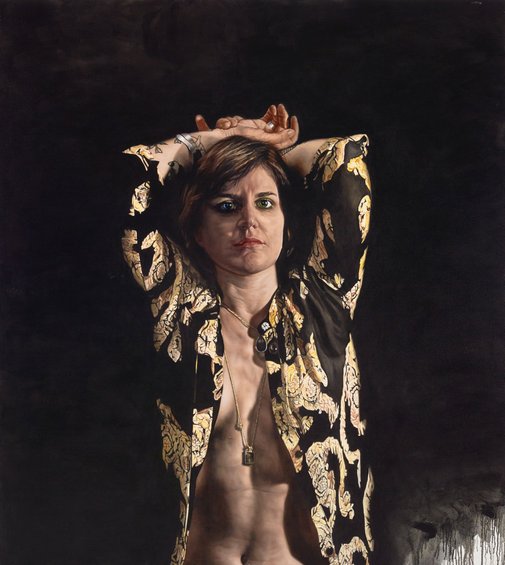 Angus McDonald
Romanticide ‒ portrait of Abbe May
Medium

oil on canvas

Listen to label text

Read label text

Abbe May is a well-known singer/songwriter and musician from Bunbury in WA.

'I first met Abbe through a mutual friend two years ago,' says Angus McDonald. 'For this portrait, I flew to Perth from the East Coast, went to one of her gigs and we did a sitting afterwards at three in the morning. Since then we have become friends.

'She is a supremely talented songwriter, has a powerful, versatile voice and her guitar playing is scorching. On a personal level, she is sharp, quick-witted and articulate. She is also motivated by political and social issues, particularly equality and human rights, and is never afraid to express her views,' says McDonald.

'I painted her standing up looking straight at the viewer and tried to reflect her inner strength and enthusiasm in confronting and engaging the world. She is wearing a Versace shirt, which is one of her favourite pieces of clothing. One of her unusual physical attributes is that one of her eyes is green, the other blue.'

Born in Sydney in 1961, McDonald studied at the Julian Ashton Art School and the Florence Academy in Italy. Since 1996, he has had more than 30 solo exhibitions in Australia, Japan and the UK and has exhibited in numerous group shows. He has been to Antarctica twice as an expedition artist. A finalist in numerous art awards including the Sulman Prize, Dobell Prize for Drawing and Blake Prize, this is his fourth time in the Archibald Prize.