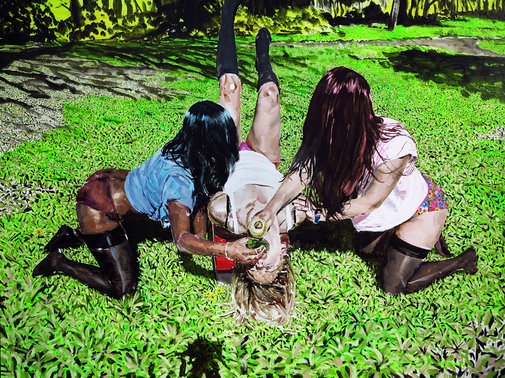 Sophia Hewson
Delivered
Medium

oil on board

Listen to label text

Read label text

'This self-portrait was based on a performance that we did in Melbourne. It was intentionally public, fast and cheaply documented, to reference the methods of pornography,' says Sophia Hewson.

'I was using my body in this work to try to open up a dialogue on female self-objectification (when a woman intentionally sexually objectifies herself). Sometimes I think self-objectification can be constructive. It can be used to claim back ownership of the body or to assert: "I can exhibit my sexuality without it amounting to my sexual availability".

'Other times I think it can reflect the way the patriarchal value system has been internalised. But I don't feel you can expect a woman, who has unconsciously internalised "male" values, to see herself as a space where something has been lost. A new identity needs to be forged.

'I'm interested in this because I'm struggling with it myself. I have difficulty navigating the contradictions and differentiating between internal and external influences, but I see self-portraiture as a potent site for negotiating identity.'

Born in Cambridge, UK in 1984, Hewson is a multi-disciplinary artist. She was a participant of the Northern Centre for Contemporary Art international exchange project in 2013, which allowed for six weeks research in Indonesia, and a finalist in last year's Archibald. She is currently completing a six-month residency at the Residency Unlimited program in New York.