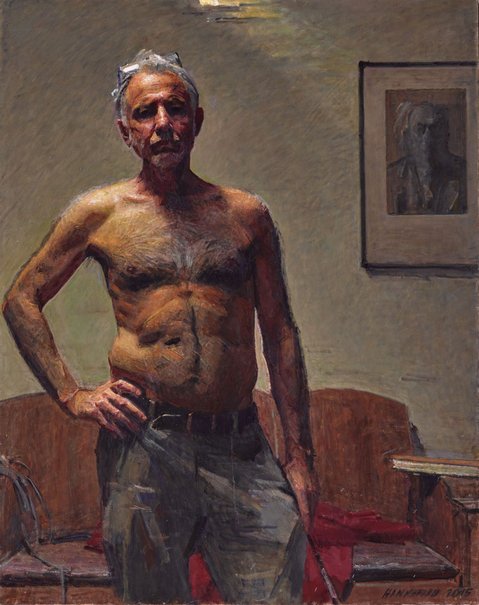 Robert Hannaford
Robert Hannaford, self-portrait
Medium

oil on canvas

Listen to label text

Read label text

In 2007, Robert Hannaford was represented in the Archibald with a self-portrait painted during his recovery from throat cancer. Unable to swallow for six months, he depicted himself naked in order to show the tube into which liquid food was injected.

In this self-portrait you can see the scar on his stomach where the tube went. 'So in a way, it's slightly related to that 2007 painting,' says Hannaford. 'It's painted in the same studio with the light coming from above. It's the light that fascinates me in this particular painting.

'I did start with my pants off,' he adds with a laugh, 'but I think this looks more interesting. It's difficult with self-portraiture to find the objectivity that's necessary but the truth is far more interesting than some flattering concoction.'

The picture on the wall is a drawing he did 50 years ago in Adelaide. 'I invited a stranger back to the studio and drew him. It just happened to be behind me and I used it as part of the composition,' he says.

Born in 1944, Hannaford lives and works near Riverton, South Australia. He is a highly regarded sculptor and landscape painter, as well as an acclaimed portrait artist. An Archibald finalist on 23 previous occasions, he has won the People's Choice three times. He has also been finalist in the Wynne and Sulman Prizes and won the Doug Moran National Portrait Prize in 1990 and the inaugural Fleurieu Landscape Prize in 1998.