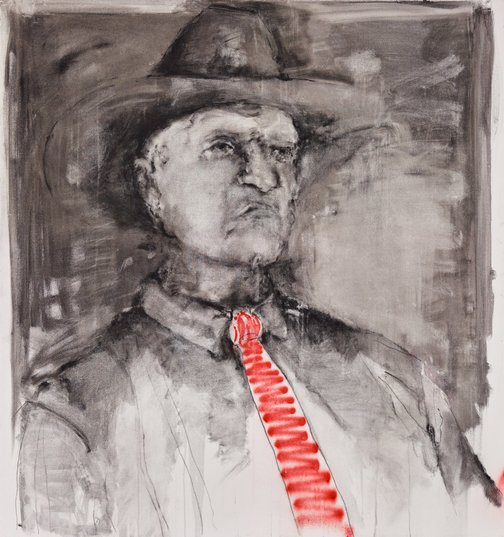 Kristin Tennyson
Bob Katter, federal MP
Medium

mixed media on canvas

Listen to label text

Read label text

'Since migrating from Canada to Australia in 1993, drawing parallels between these two Commonwealth countries, which both maintain loyalty to the British Empire, has proved inescapable,' says Kristin Tennyson.

'The concept of "allegiance" has become an abiding preoccupation for me and its subtle conundrums infuse everything I paint. My work confronts my unease about where I belong.

'I asked Bob Katter to sit for me because he is one of the most strongly identifiable figureheads from Far North Queensland. His often wildly contentious statements and renowned persistence in battling for the underdog have ensured his continued media presence.

'His position as founding leader of Katter's Australian Party and his interest in the cattle industry impelled me to approach the portrait like an old-fashioned cowboy movie poster. The essentially monochrome depiction references the black-and-white cinematography of old Westerns as well as Bob's values and ideology, often perceived as old-fashioned. The red squiggled tie represents his vitality and natural flamboyance along with his cultural affiliations and proud Lebanese heritage.'

Born in Canada in 1971, Tennyson holds a Masters degree in Creative Arts from James Cook University, as well as a Bachelor of Arts from the University of Toronto. She has been a finalist in many art prizes including the Queensland Figurative Art Prize and the Doug Moran National Portrait Prize. She won the Blunt Edge of Portraiture in Cairns in 2009.