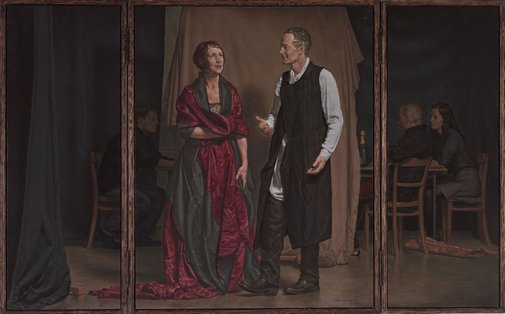 Marcus Wills
El cabeceo
Medium

oil on board, multi-panelled altarpiece

Listen to label text

Read label text

Marcus Wills' painting is a double portrait consisting of a triptych and a diptych. The subjects, who are doctors, are pictured both nude and in their wedding clothes.

The other figures in the clothed painting represent anonymous wedding guests, although the one seated on the left-hand side is a self-portrait of the artist, who won the Archibald Prize in 2006.

Alan and Jennifer commissioned this portrait to celebrate their marriage. The title, El cabeceo, is the name given to a nod of the head used to ask a partner to dance in the milonga of Buenos Aires.

'Our life paths intersected in our 40s and remain intertwined,' say the subjects. 'The portrait was commissioned to record our connection, that glance of introduction accepted. Just as our bond exists in both the public sphere as doctors, and in our private intimacy, so the folding box art form has exterior and interior aspects, although playfully reversed with the naked exterior and the clothed interior. The triptych harks back to religious icons that priests took on their travels.'

Wills was born in Kaniva, Victoria in 1972. A figurative realist painter, he received a Bachelor of Fine Arts from the Victorian College of the Arts in 1995 and was awarded the Brett Whiteley Travelling Art Scholarship in 1999. Wills has held solo exhibitions in Melbourne since 1992 and has been represented in various group shows.