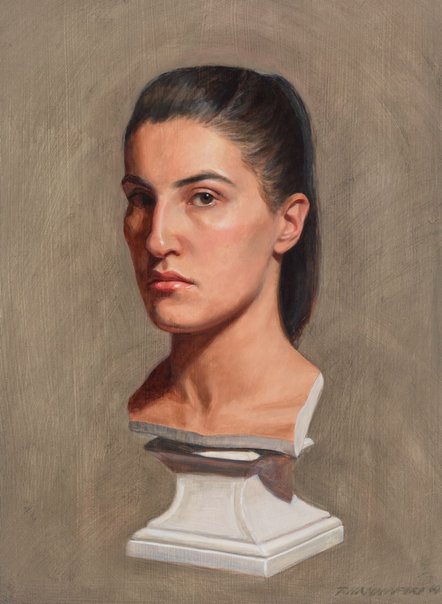 Tsering Hannaford
Objet démodé
Medium

oil on board

Listen to label text

Read label text

Tsering Hannaford's painting Object démodé is a self-portrait.

'I'm influenced by the experience of women within the broader culture and I'm interested in contemporary feminism,' says Hannaford. 'I believe it's beneficial to open up a dialogue about the many double standards that still exist for men and women. There is a huge emphasis among women to look good, to look youthful – especially if you buy into popular culture.

'I often paint self-portraits in times of self-reflection. When this portrait was painted, I was beginning to recognise how I had spent a lot of my time and money trying to adhere to a certain social standard for women. I am comfortable representing myself here make-up free and serious.

'Placing the self-portrait on a bust articulates my feelings of objectification and comments on the way youthful beauty is an impermanent thing, which sooner or later becomes a relic of the past.'

Hannaford was born in Adelaide in 1987. Her father Robert is a painter (and also a finalist this year) and her mother is a shoemaker. She began painting seriously in 2012 after completing a BA in Psychology and a Graduate Diploma in Art History at the University of Adelaide. She has been a finalist in the Portia Geach Memorial Award (highly commended in 2014) and AME Bale Travelling Scholarship and Art Prize, and a semi-finalist in the Doug Moran National Portrait Prize, and has been hung in the Archibald Salon de Refusés.