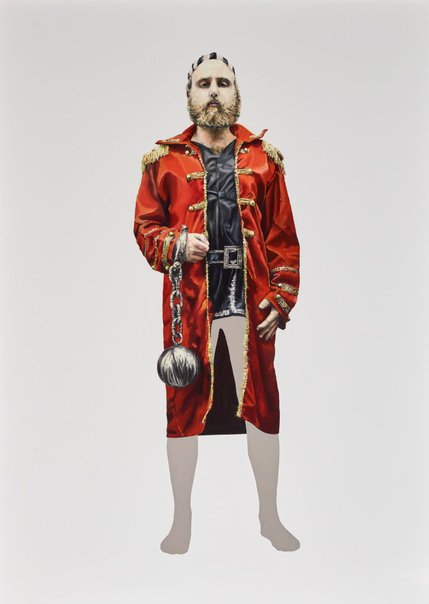 Tim Gregory
Self-portrait as ancestors
Medium

oil on Endura paper

Listen to label text

Read label text

Tim Gregory describes this self-portrait as 'a response to the confused, prosaic and performed nature of white Australia'.

'European painting in Australia was founded by convicts who were themselves forgers, producing replicas of a landscape and life, which were facsimiles of European fantasies. In the main, this tradition continues,' he says.

'The combination of the redcoat and the convict is not about my own personal heritage, but more broadly about how many Australians still view themselves – as both larrikin/underdog and defender. The costumes I wear are eroticised reconstitutions of colonial history from a sexy costume store. They are in no way authentic, but held together by Velcro and tassels, ready to be ripped off after the obligatory role-play of identity.

'The painting is deliberately superficial: shiny, saturated, decontextualised. White painters (particularly male painters) in Australia, and the white Australian population more broadly, cannot contribute in any significant way to cultural, political or social evolution until we acknowledge that we are still a colonial country, absurdly and violently layered on top of the world's oldest, continuous culture,' says Gregory.

Born in Sydney in 1981, Gregory is a lecturer in art at UNSW Art & Design. His research focus is on the spatio-political potential of pornography. He has undertaken art projects with the Art Gallery of New South Wales, Sydney Biennale and the Museum of Contemporary Art. He is the co-editor of ON journal.