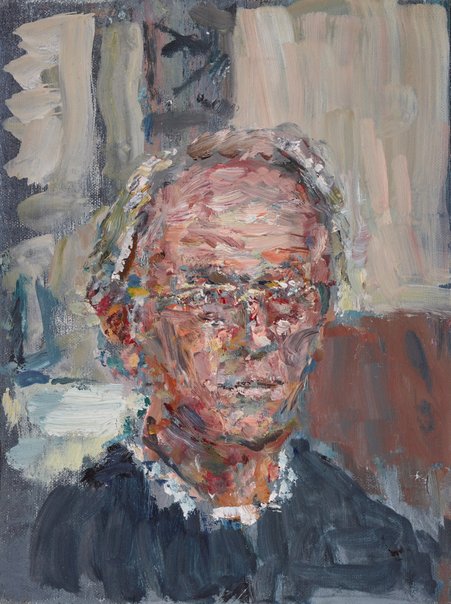 Tom Carment
Self-portrait at 60
Medium

oil on linen

Listen to label text

Read label text

Every few years, Tom Carment sits in the downstairs room of his terrace house and paints a picture of his face, using a small barber's mirror propped up under the sash window.
'Last month I did this picture in three short sittings, working on the dark ground of a nocturne I'd rubbed out the week before,' he says.

'It was raining, so I couldn't go out landscape painting, and the light through the window was dim. Rather than work on top of an exactly drawn likeness, I used dabs of paint directly, in a crusty replication of flesh. I enjoy observing my own ageing process, the hair fully grey now, the lines and skin blotches, my face moulded by weather, personality, habits and anxieties: the erosion of time. At 60, life doesn't seem to get any simpler, but I feel a bit calmer about its complications.'

Born in Sydney in 1954, Carment is a painter and a writer. This is his tenth Archibald hanging. He won the 2008 Gallipoli Prize and the 2014 NSW Parliament Plein Air Painting Prize. He was one of ten artists showcased in the 2014 Dobell Australian Drawing Biennial at the Art Gallery of New South Wales. His third book, of essays and watercolours, Seven walks (with photographer Michael Wee), was published in November 2014. Carment also has a work in this year's Sulman, his third successful entry for this prize.