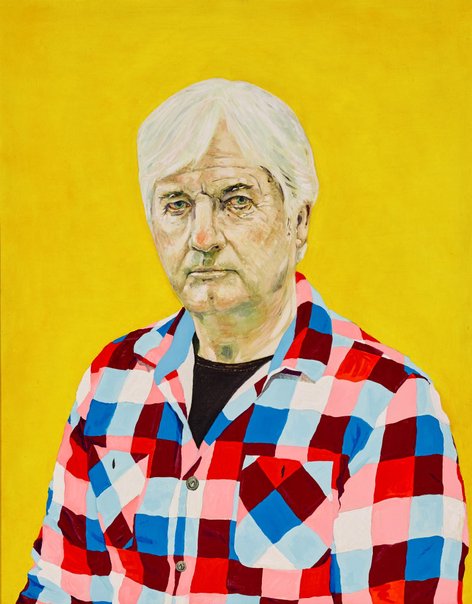 Samuel Rush Condon
Jarratt
Medium

oil on composition board

Listen to label text

Read label text

As Samuel Condon flew into Sydney to meet renowned actor John Jarratt – who recently terrified audiences in the Wolf Creek films – the plane hit turbulence.

'We dipped and dove on our descent amidst cyclonic winds, drifting sideways on the tarmac as we landed. The plane continued to shake violently even after we'd stopped at the terminal. I had arrived in the midst of a horrific "once-in-a decade" storm. In blinding rain, I proceeded from the airport, eventually making my way to John Jarratt,' recalls Condon.

'The afternoon was spent out in the back shed, drawing, painting and occasionally having a good laugh as rain hammered on the roof. After I had completed my preparatory drawings and watercolours, we withdrew to the house to enjoy coffee and cakes.

'I wanted to be among the eucalyptus forest where I had lived as a child and returned to the Great Ocean Road hoping to infuse the work with a stronger sense of purpose and Australianness. John Jarratt is one of my favourite Australian icons. He has a brilliant personality, both on and off screen, one I will never forget.'

Born in Geelong, Victoria in 1985, Condon has a Master of Fine Arts from the Royal Melbourne Institute of Technology and a Bachelor of Fine Arts from the Victorian College of the Arts. He is currently undertaking his Masters in Art Curatorship at Melbourne University. He is a three-time finalist in the Brett Whiteley Travelling Art Scholarship and was a finalist in last year's Archibald Prize.