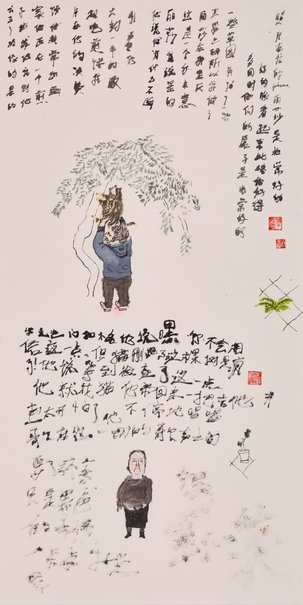 Jason Phu
Lisa has a much more pleasant face than Glenn...
Medium

ink on Chinese paper

Listen to label text

Read label text

The full title of Jason Phu's painting is: Lisa has a much more pleasant face than Glenn. She also doesn't sing horribly while playing a guitar or try to put a cat up a tree while I'm painting her. His subject is Lisa Havilah, director of Carriageworks, a contemporary multi-arts centre in Sydney.

Commenting on the work, Phu says: 'I wanted to paint Noel but he hates doing that stuff. Lin was too busy with his footy schedule. Guan wasn't in the country. So I had to settle for painting [curator] Glenn Barkley. Luckily while Glenn was distracted with showing me how much his cat loved climbing trees (which it definitely didn't), Lisa was there so I painted her instead. Anyway, Lisa is much more prestigious in the arts and is also a lovely person.

'I never really wanted to become an artist. I've always wanted to be a cartoonist, doing the Sunday comic strips, but I've been too scared to pursue it. In high school I decided I'd like to do engineering. I've always had a penchant for building little mechanical toys, but I didn't have the marks to do engineering. So I had to do fine arts. It's been all right and I've enjoyed it but I see myself becoming a chef in the not-too-distant future.'

Born in Sydney in 1989, Phu studied at the College of Fine Arts UNSW and in Nova Scotia and Beijing. His artwork draws on his life as a Chinese-Australian. He was a finalist in last year's Archibald Prize, and is also in this year's Sulman Prize.