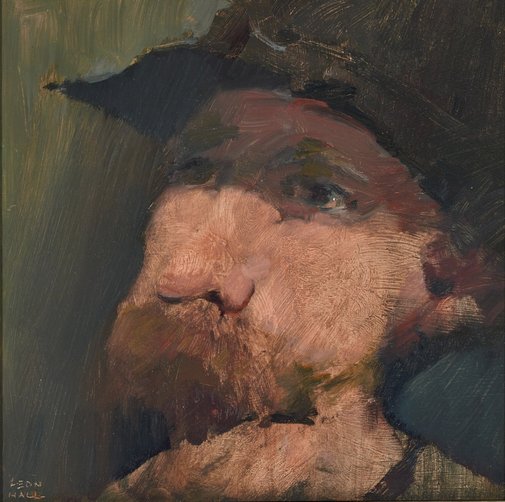 Leon Hall
Self-portrait
Medium

oil on hardboard

Listen to label text

Read label text

Best known for his evocative landscape paintings and figurative drawings, Leon Hall has made a few portraits and self-portraits over the years.

'I say at the beginning, "I don't let a good likeness get in the way of a good drawing,"' says Hall.

'If it's going well, I don't stop to make sure that it looks like the subject, I just let it rip. I try and feel what I'm doing. It might not be that technically sound but I've done all that in the past,' adds Hall. 'I just impose my feelings these days. I think what separates good work from ordinary work is the emotion. I prefer to capture the spirit. But if you can do the figure well, you can do most things.'

Born in Sydney, Hall began his career in the 1960s as a silkscreen printer then worked for 19 years as a creative director at multi-national company Colgate-Palmolive.

He studied drawing under John Passmore at East Sydney Technical College and painting at the Julian Ashton School of Art. He then discovered tonal realism at the Meldrum School. 'I thought, "this is for me,"' he says.

He eventually left the corporate world to become a full-time artist. He has exhibited at various galleries and has had retrospectives of around 100 small works on paper and canvas in Bowral in 2002 and at the Hornsby Art Gallery in 2007. His work is held in private collections nationally and internationally.