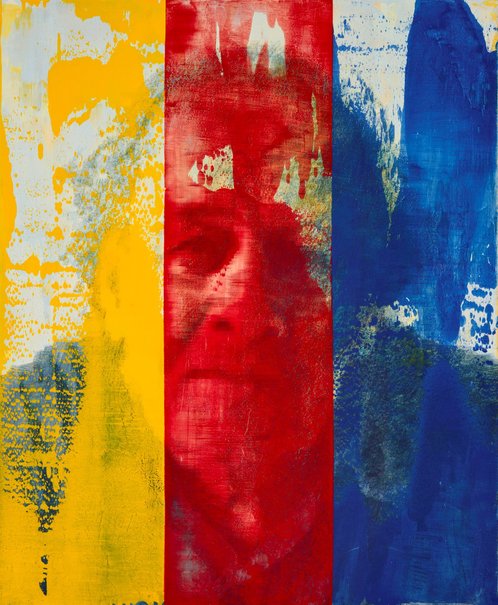 John Beard
Bill
Medium

oil and wax on linen

Listen to label text

Read label text

'William Wright was one of my closest friends. He sadly died last October,' says John Beard.

'Bill had a richly stimulating career. He was a distinguished educator, arts administrator and curator. Charming, curious and engaging, he thrived on challenges and being challenged.

'But most of all Bill would like to be remembered as an artist: a superb colourist. Instead of painting him in the customary monochrome manner of my series of artist portraits, I have introduced the three primaries – yellow, red and blue – the essential elements for mixing every colour. I have honoured him with an artist's tricolour flag, demonstrating an act of painting with a robust gesture layered across a delicate facture of his image. Perhaps a little "difficult" on first encounter, Bill sits behind the tricolour silently, almost a fugitive: an "otherworldly" image of engagement and insightfulness.'

Born in 1943 in Aberdare, Wales, Beard is a former trustee of the Art Gallery of New South Wales and now divides his time between Sydney and London. He studied at the University of London and Royal College of Art and has had solo exhibitions at galleries including the Art Gallery of New South Wales, Tate St Ives in the UK and Centro de Arte Moderna in Lisbon. He was recently included in the Australia exhibition at the Royal Academy of Arts, London. Selected portraiture exhibitions include The possibilities of portraiture at the National Portrait Gallery in Canberra and Painting the century: 101 portrait masterpieces 1900–2000 at the National Portrait Gallery, London. He won the 2006 Wynne and 2007 Archibald Prizes.