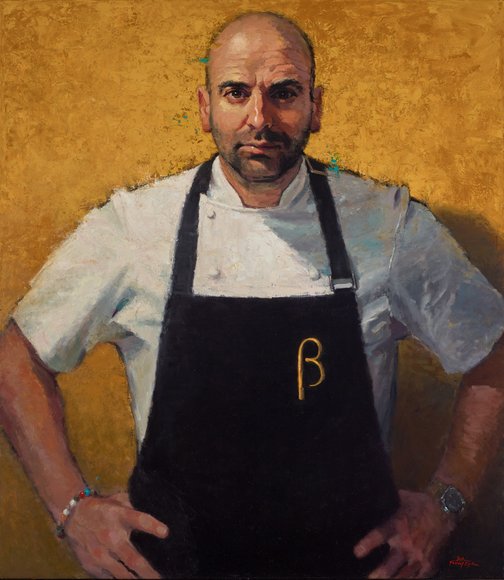 Betina Fauvel-Ogden
Winner: Packing Room Prize 2016
George Calombaris, masterchef
Medium

oil on linen

Listen to label text

Read label text

George Calombaris is a Melbourne chef and restaurateur who came to widespread public attention as a judge on Network Ten's MasterChef Australia. He owns seven Melbourne restaurants, including The Press Club, where the cuisine draws on his Greek and Cypriot heritage.

'I was always interested in George Calombaris as a subject as I felt there was an intensity to his character,' says Betina Fauvel-Ogden.

'After eight months of pursuing him, George gave up his valuable time to allow me three sittings. I wanted to paint him in his white chef's jacket and black apron. In choosing the pose, George felt most comfortable with his hands on his hips. I kept the lighting simple and focused on capturing the determination in his eyes.

'I had always envisaged a vibrant yellow background for the portrait. When George gave me his cookbook Greek, with its bold yellow cover, as a gift at the first sitting that clinched it. I have used three different yellows, while being careful not to let the colour dominate the painting.'

Born in Adelaide, Fauvel-Ogden completed a Diploma of Art at RMIT in 1964. She has worked in fashion illustration, advertising and children's book illustration. In 1987, she won the New South Wales Literary Award for children's book illustration. She has had three solo exhibitions and won the Alice Bale Oil Prize in 2006. She has twice been a finalist in the Shirley Hannan Portrait Prize. This is her first time in the Archibald Prize.

Watch Auslan video

Read audio description

Against a golden textured background, a man stands front-on, with his hands on his hips, looking directly at the viewer with a serious expression. He is wearing a short-sleeved, double-breasted white chef's top and a black full apron that has the Greek letter beta in yellow-gold on his left chest. He is bald, with the suggestion of closely cropped dark hair at the sides, blending with his heavy facial stubble. His eyes are large and brown under strong eyebrows. He wears a watch on his left wrist and a string of coloured beads on his right wrist. His body fills the canvas, cut off at the elbows and the hips. The light shines in from his right, putting his left side into light shadow. There are highlights on his forehead, nose and lip. At several points across the painting there are touches of bright turquoise.