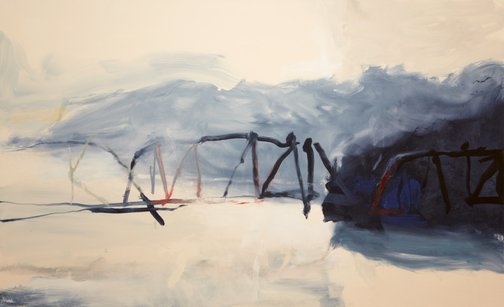 David Collins
Hawkesbury crossing
Medium

oil on canvas

Read label text

Hawkesbury crossing is one of a series of paintings based on the Hawkesbury River railway bridge at Brooklyn.

The painting was completed in the studio, using a number of drawings done on location as source material. While drawing late one afternoon I was struck by the look of the bridge, in dark silhouette, appearing to merge with the dark land mass and have tried to get some sense of this in the work.

The sky, land and water areas are painted in broad washes of thin oil paint. In contrast, the lines that form the struts of the bridge set up dark accents across the painting.

I have left the work in a relatively undeveloped state in the hope that it may suggest the freshness and spontaneity of the sketch that inspired it.

- David Collins

This work was highly commended by the Wynne Prize 2013 judges.