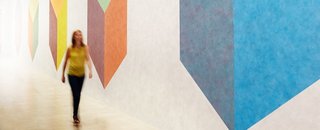 Sol LeWitt: Your mind is exactly at that line Detail of Wall drawing 604H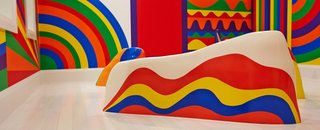 Sol LeWitt: Your mind is exactly at that line Detail of Wall drawing #1091 and Non-geometric form (splotch)
Introduction
In conceptual art the idea or concept is the most important aspect of the work
- Sol LeWitt, Paragraphs on conceptual art 1967
Sol LeWitt: Your mind is exactly at that line presents 40 years of the artist's work, ranging from his early three-dimensional objects to late wall drawings. A pioneering voice in the conceptual art movement of the 1960s in America, Sol LeWitt (1928-2007) forged a new way of thinking about art. For him, the idea was paramount. His work uses systems of repetition and patterning and stems from the premise that it is the concept that counts, regardless of whether it is realised.
In response to the personal and expressive gestures of abstract expressionist painting, which dominated New York in the 1950s, LeWitt developed a visual language based on basic principles of geometry with the aim of being, in his words, 'as objective as possible'. Rather than imagery or narrative allusions, LeWitt chose a square, for instance, because it was the 'least emotive' of forms.
LeWitt's wall drawings and structures are made from written instructions, highlighting the importance of the idea over the artist's hand or 'mark'. This radical system of authorship is fundamentally collaborative. LeWitt likened his process to that of a composer. Not unlike a musical score, which is subject to the subtle variations of each new performance, his instructions embrace interpretation and chance in the materialisation of the work.
This exhibition also represents LeWitt's close ties with Australia. Works by Indigenous artists Emily Kam Ngwarray and Gloria Tamerre Petyarre have been drawn from his private collection, as has a comprehensive selection of archival material that maps the many relationships and projects he engaged in here.