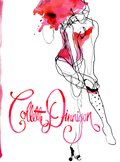 Collette Dinnigan Obsessive Creative
written by Collette Dinnigan
Penguin Books Ltd | ISBN 9780062337122
Hardback – 272 pages
$100.00
Member's price: $90.00
In this much-anticipated book from Collette Dinnigan, the Australian designer and fashion icon provides an intimate insight into her life and work.
For the first time, this intensely private woman opens up about what makes her tick. What inspires her to create clothes worn by the most glamorous women in the world, from film stars to royalty? How has her bohemian childhood shaped her? What has made her so successful? What drives her creativity and her famed attention to detail? How does she unwind? How does she juggle the roles of mother and businesswoman?
Obsessive Creative takes you behind the scenes of the world of high fashion, from the studio where Collette's sublimely beautiful clothes are made, to backstage at the Paris shows, from the red carpet to a beading factory in India. Lavishly illustrated with photographs from top international fashion photographers and from Collette's own family albums, this is an intensely personal account of her life and times.
The name Collette Dinnigan conjures up images of romance, style, luxury and femininity – meet the woman behind the name.

Dimensions: