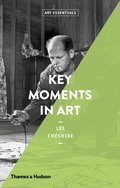 Key Moments in Art
Art Essentials
written by Lee Cheshire
Thames and Hudson | ISBN 9780500293621
Paperback
Part of the Art Essentials series.
$20.00
Member's price: $18.00
Small, smart, essential – an easy-to-read, straightforward and entertaining introduction to art history via fifty pivotal moments from antiquity to the 21st century.
Key Moments in Art describes fifty pivotal moments – some famous, others unfamiliar – from the Renaissance to the present day. Vivid, colourful vignettes capture the excitement of their times: when Michelangelo's David or Marcel Duchamp's Fountain were unveiled for the first time; when chance meetings have spurred artists to create compelling new styles, such as Impressionism or Pop Art; or when exhibitions have caused a public sensation.
Dimensions: