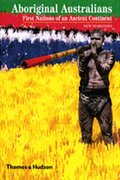 Aboriginal Australians
First Nations of an Ancient Continent
written by Stephen Muecke, Adam Shoemaker
Thames and Hudson | ISBN 9780500301142
Paperback
Part of the New Horizons series.
$18.00
Member's price: $16.20
Here is a lively, vibrantly illustrated social and cultural history of the Aboriginal Australians, from their origins to the present.
The book explores how the indigenous people actually came to be in Australia, and looks in depth at their extraordinary rituals and 'Dreamings', and the importance of 'kin' to their social structures.
Much space is devoted to their massive cultural renaissance over the past four decades, with comprehensive coverage of the way in which Aboriginal art – be it Central Desert acrylic art, batik, contemporary urban painting, sculpture or traditional bark painting – has become a flagship for Australian culture.

Dimensions: