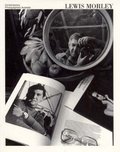 Lewis Morley
written by Paul Burrows
Writelight Pty | ISBN 9780646305875
Paperback – 96 pages
Part of the Contemporary Photographers: Australia series.
$31.95
Member's price: $28.76
Lewis Morley was born in Hong Kong in 1925 and was repatriated to England in 1945. A growing interest in photography saw him begin working for Tatler and other magazines, and he photographed the actors, singers and models who were the 1960's renaissance in art, music and theatre. He is best known for his nude studies of Christine Keeler during the Profumo scandal. He moved to Sydney in 1971 where he continues to exhibit and successfully sell his photography.
Artist: Lewis Morley
Dimensions: