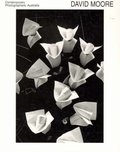 David Moore
written by Max Dupain, Daniel Thomas
Writelight Pty | ISBN 9780958193405
Paperback – 96 pages
Part of the Contemporary Photographers: Australia series.
$29.90
Member's price: $26.91
Undoubtedly one of Australia's most respected and accomplished photographers, David Moore was the subject of the first volume in the Contemporary Photographers: Australia series, published in the early 1980s when he had already produced a significant body of work spanning 35 years. It is a testimony to David's considerable photographic talents and skills that, over two decades later, he is still producing images worthy of critical acclaim. David Moore's cultural contribution to Australia's photographic heritage has been included in this updated edition with many new photographs and a recent interview in which he discusses his contemporary work and looks back on a life in photography spanning nearly 60 years.
Dimensions: