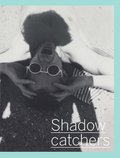 Shadow catchers
written by Isobel Parker Philip
Art Gallery of NSW | ISBN 9781741741483
Paperback – 48 pages
$16.95
Member's price: $15.26
Shadow catchers investigates the way shadows, body doubles and mirrors haunt our understanding of photography and the moving image through works by over fifty Australian and international artists from the Art Gallery of New South Wales collection, with a focus on new acquisitions.

The exhibition and associated publication contend with the way images can both reflect and refract reality by presenting photographs that use the mirror as a means of duplication and distortion; groups of images that operate as pictorial echoes; studies of split selves and tributes to the looped structure of cinematic time.

The publication comprises an essay by Isobel Parker Philip and focus texts on artists Patrick Pound, Eugenia Raskopoulos, Soda_Jerk and John Stezeker.
Available exclusively from the Gallery Shop.
Dimensions: