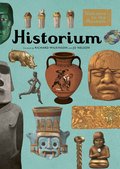 Historium
Welcome to the Museum!
written by Jo Nelson, Richard Wilkinson
Five Mile Press | ISBN 9781760068202
Hardback – 112 pages
$15.00
Member's price: $13.50
Discover more than 140 exhibits in this virtual museum, open all hours
Welcome to the museum! Here you will find a collection of objects from ancient civilisations. Objects of beauty, objects of functionality, objects of war, objects of life, and objects of death and burial.
As you wander from room to room, explore the magnificence of what civilisations have left behind over thousands of years of human history.
Historium features:
•Over 100 full-colour, immaculately detailed pages, featuring great works of art and fascinating everyday objects from across six continents.
•Objects are beautifully illustrated and paired with text that explains their story and importance.

Dimensions: