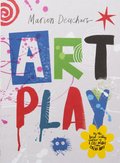 Art Play
written by Marion Deuchars
Laurence King Publishing | ISBN 9781780678764
Paperback
$28.00
Member's price: $25.20
Play with art like never before in this exciting new activity book from the best-selling author of the Let's Make Some Great Art series.
Marion Deuchars has created a surprising and engaging range of activities and games organised into seven sections of Drawing, Colour, Shapes, Paint, Paper, Printing and Pattern. Each section is not only a great opportunity to play, but also helps to shape and form artistic ability and confidence.
Discover the joys of making your own marbled paper. Create your own language in pictures. Providing hours of endless fun and exploration, Art Play will bring out the artist in everyone.
.
About the Author
Author of the best selling Let's Make Some Great Art series, Marion Deuchars is a Scottish born, award winning illustrator with a globally recognisable style. Her influential hand-lettering and illustration work has been used on advertising campaigns from Samsung and HP to posters for Formula 1 and stamps for The Royal Mail. Her books have won six international awards for design and illustration. She is a member of the Alliance Graphique Internationale and one of six designers to represent the UK at Helsinki's World Design Capital celebrations.
She lives in North London with her husband and two children.

Dimensions: