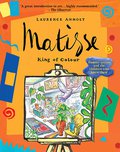 Matisse, King of Colour
written by Laurence Anholt
Frances Lincoln | ISBN 9781847800435
Paperback – 32 pages
Part of the Anholt's Artists series.
$15.00
Member's price: $13.50
This is the sixth title in the highly-successful Anholt's Artists series about great painters. Each book tells the story of real meetings between a world-famous artist and a child who inspired him in his work, with reproductions of some of the artist's most famous works. This book describes the close relationship between Matisse and Monique, a young girl who wants to become a nun. Matisse develops a sketch drawn by Monique into a set of stained-glass windows and starts raising money to build a chapel for the nuns at Vence, in south-west France. Finally one morning when the chapel is finished, Monique sees the special magic of Matisse's design: when the sun's rays creep into the chapel, transforming its black and white interior into a fantastic sea of blue and green light!
Artist: Henri Matisse
Dimensions: