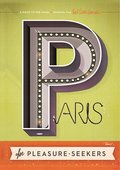 Paris for Pleasure Seekers : Herb Lester Associates Travel Gudies
illustrated by Kelli Anderson
Herb Lester Associates | ISBN 9781910023266
Part of the Herb Lester Associates Travel Guides series.
$11.50
Member's price: $10.35
A rousing round-up of delights for all the senses, and tastes high and low. The guide takes in lingerie, arguably France's most famous ballet pump-makers, and macaroons; there are belle epoque restaurants, wine bars, opulent cinemas and bawdy beatnik bookshops. We have returned from the city of light with another guide to its numerous delights and distractions.
* Designed by Kelli Anderson
* A3 (297x420mm) folded to A6 (105x148mm)
* Litho-printed in England on recycled paper

Dimensions: