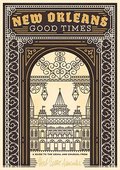 New Orleans Good Times : Herb Lester Associates Travel Guides
illustrated by Adam Grason
Herb Lester Associates | ISBN 9781910023433
Part of the Herb Lester Associates Travel Guides series.
$12.50
Member's price: $11.25
A guide with one simple purpose: fun. Our focus is on eating and carousing (with just a few other diversions), it will lead the user to good times, memorable times, maybe even wild times. The 38 entries take in po'boy sandwiches, sazeracs, Creole-inflected Italian food, and a bar that rotates a full 360 degrees every 15 minutes. As we say, good times!
* Designed by Adam Grason
* A3 (297x420mm) folded to A6 (105x148mm)
* Litho-printed in England on recycled paper

Dimensions: