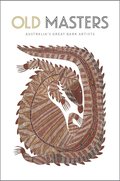 Old Masters : Australia's Great Bark Artists
written by National Museum of Australia
National Museum of Australia | ISBN 9781921953347
Paperback
$39.95
Member's price: $35.96
Bark painting, as practised by Aboriginal artists of Arnhem Land for millennia, is one of the great traditions of world art. Yet it was only recognised as such late in the 20th century. Old Masters: Australia's Great Bark Artists highlights the work of 40 master painters who have carried one of the oldest continuing traditions of art into the modern era.
Old Masters features the paintings of Narritjin Maymuru, Yirawala, Mawalan Marika and Malangi and their contemporaries. These men of high ritual standing were not only artists, but also ceremonial and clan leaders, philosophers, advocates for land rights and human rights, ambassadors and politicians, who recognised the power of art as the most eloquent means to build bridges between Aboriginal and European society.
The book includes essays by renowned scholars of Aboriginal art, biographies and portraits of the artists, and 122 full-colour plates of the paintings, made between 1948 and 1988, from the National Museum of Australia's rich and extensive collection.

Dimensions: