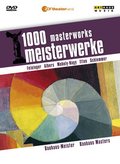 Bauhaus Masters
Arthaus | ISBN 9783941311909
Runtime: 50 minutes
DVD region: ALL
Part of the 1000 Masterworks series.
$35.95
"The Bauhaus" (1919-1933) is considered the most prestigious school of architecture, design and art. This film introduces five of the most important Bauhaus teachers, whose visions and art theories made the school an icon of reform, experimentation, and the avant-garde. Their works and teachings, derived from Bauhaus ideas, spread all over the world, and have greatly influenced the modernist style. Josef Albers: HOMAGE TO THE SQUARE: AGAINST DEEP BLUE (1955) Lyonel Feiniger: BIRD CLOUD (1926) Johannes Itten: THE MEETING (1916) László Moholy-Nagy: LIS (1922) Oskar Schlemmer: FIGURES WITH BALUSTRADES (1931)
"1000 Masterpieces from the Great Museums of the World" is one of the most successful TV series about art. The original, with improved image quality, takes us on a fascinating journey through the history of art. Comprehensively illustrated and compellingly presented – the well-known authors of five short art surveys provide a deeper insight into the masterpieces of painting.
Dimensions: