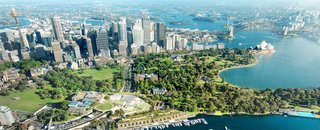 Image of the Sydney Modern Project as produced by Kazuyo Sejima + Ryue Nishizawa / SANAA
About the project
The Art Gallery of New South Wales' expansion – the Sydney Modern Project – will provide significantly more space for the display and enjoyment of art in all its evolving forms, along with more opportunities for our visitors to learn, create and discover.
We are building a vibrant new cultural hub with close to double our current gallery space to show more of the State's outstanding art collection, to host more of the best exhibitions from around the world, and provide a wide range of inspiring art experiences for our diverse audiences.
The Gallery's new building, designed by internationally renowned architects, SANAA, brings together art, architecture and landscape in spectacular new ways with dynamic galleries and seamless connections between indoor and outdoor spaces in one of the world's most beautiful cultural precincts. A public Art Garden will link the new stand-alone building with our much-loved historic building, creating an exciting art journey through the expanded Gallery.
Construction is scheduled to commence in 2019 for expected completion in 2021, to mark our 150th anniversary. With record attendances, we are building on the Gallery's long history of innovation and leadership to offer all our visitors a unique art experience only possible in Sydney.
Project benefits
Close to double the current building's exhibition space to enable the Gallery to show more of the outstanding state art collection under its management and host major international exhibitions
A new prominent destination showcasing Aboriginal and Torres Strait Islander art and culture
Increased visitation to more than 2 million per year, including capacity to double student and teacher visits to 200,000 per year
Dedicated spaces and facilities for learning and participation, with innovative and interactive programs
Create exciting new opportunities for the Gallery's staff, volunteers and membership bodies
Architectural and cultural landmark where people, art and ideas come together in the heart of Sydney's cultural precinct
The first public art museum in the nation to achieve the highest environmental standard with a 6-star Green Star design rating
The design maximises and enhances open space across the site with courtyards, green roofs and more than 1,800sqm of landscaped accessible roof terraces
Improved 24/7 access, landscaping and civic amenity for all visitors and an improved universal pathway linking Woolloomooloo with the

CBD

Wider economic benefit to the

NSW

economy of more than $1 billion over the next 25 years
New spaces to enjoy art in all its forms
The first gallery visitors encounter in the new building will showcase Aboriginal and Torres Strait Islander art, bringing it front and centre in the expanded Gallery. This space is more than 40% larger than the Yiribana Gallery for Aboriginal and Torres Strait Islander art in the existing building.
Large 1,300sqm major exhibition gallery with 5.5-metre-high ceilings to host national and international shows
Large 1,160sqm column-free contemporary gallery with 5.5-metre-high ceilings and a glazed wall looking out to Woolloomooloo Bay
Spectacular underground art space repurposed from a decommissioned

WWII

naval oil tank. The unique 2,200sqm gallery with 7-metre-high ceilings will be used for exhibitions and performances, providing access to this public asset for the first time.
Purpose-built learning and participation studios for younger audiences, school programs and a variety of public programs
New public Art Garden connecting the new and existing buildings
Flexible multipurpose space to support a variety of public programs including performance and lectures
Variety of smaller galleries including a dedicated 'black box' studio for multimedia works
A Gallery for the people of NSW
As the State's public gallery, our art collection belongs to the people of NSW. As such, we continue to provide communities across the state with inclusive, engaging and accessible opportunities to participate and experience the Gallery's collections, temporary exhibitions, programs and facilities, whether physically or remotely. The Gallery has a long history of strong support and partnership with other visual art institutions, communities, educational organisations and audiences across NSW. The Sydney Modern Project will help further strengthen and grow this engagement.