Archibald Prize 2017 education resource
By the Art Gallery of NSW
The Archibald Prize is Australia's favourite art award, and one of its most prestigious. It is awarded by the trustees of the Art Gallery of NSW to the best portrait painting 'preferentially of some man or woman distinguished in art, letters, science or politics, painted by any artist resident in Australasia'. In 2017, they chose a portrait of Agatha Gothe-Snape by Mitch Cairns as the winner.
Designed for school students, this education resource presents ideas for thinking about and making art inspired by some chosen finalists.
For more information and the artist statement, click on an image and view the work in the Art Gallery of NSW prizes database.
---
This painting by Mitch Cairns won the Archibald Prize this year. It is a portrait of his partner, the artist Agatha Gothe-Snape. Agatha is interested in how we interpret art. Her art often includes text.
Things to think about and make
Why do you think the trustees selected this painting as the winning portrait? Look through all of the finalists at www.artgallery.nsw.gov.au/prizes/archibald/2017/. If you were a trustee, which work would you select as the winner? List three reasons for your choice.
Where do you think Agatha is sitting in this in this portrait? What can you see around her? What effect do the colours have on the mood of the painting?
Research some of the artworks that Agatha has created. Can you see elements of her practice in this portrait? How has Mitch captured her personality?
Create a portrait of someone who is important to you. Consider your choice of materials, painting style, composition and scale. What do these elements express about your subject? Think of a title that conveys the way you feel about them.
---
Janet Dawson is one of Australia's most esteemed painters. She is a pioneer of colour field painting (a form of abstract painting) and won the Archibald Prize in 1973 with a portrait of her husband, Michael Boddy. Ashley Frost has painted Janet at her studio.
Things to think about and make
Do you think Janet is inside or outside her studio in this painting? Why do you think that? What objects do you think she might have in her studio?
Describe the expression on Janet's face. What do you think she is looking at? What do you think she is thinking about?
How do you think Ashley applied the paint to the surface of this artwork? What sort of tools do you think he used?
Ask one of your family members or friends to sit in their favourite space and make a sketch of them. As you sketch, ask the person to think about why it is their favourite space and try to capture their expression. From your sketch, create a portrait using pieces of painted cardboard glued onto a piece of board so that layers are created to make the figure stand out.
---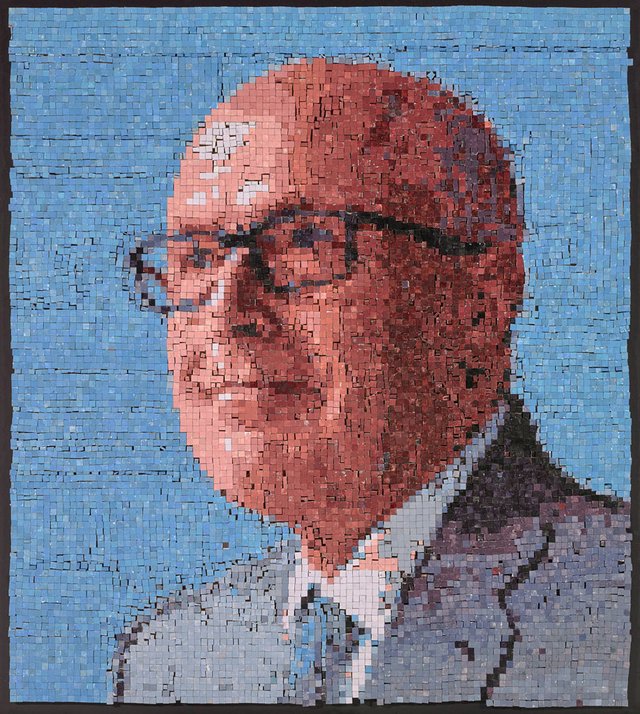 AGNSW prizes Boys of Sydney Grammar Edgecliff Preparatory School Goodbye, Sir!, from Archibald Prize 2017
This unusual portrait is constructed from many different painted squares. It gives the appearance of an image made up of pixels, like those you would find in a digital image.
Things to think about and make
This portrait is a collaborative work. What does that mean? Who is the artist? Consider the title. Why do you think the artists chose this title?
This artwork shares some similarities with the work of the American artist Chuck Close. Research and analyse Close's work and discuss his practice.
Take a digital photograph of someone you know. Enlarge the image as much as possible then make a coloured print. Continue enlarging the print on the photocopier until the portrait is a pixelated abstraction of the face.
---
William H Luke is a Melbourne artist who sometimes uses bill posters taken from the streets to collage into his artworks. To collect the materials for his collages, he must work quickly. For this portrait, he has used paint rather than collaged bill posters.
Things to think about and make
The man in this portrait is Remy van de Weil QC, a lawyer who has been involved in many serious criminal court cases. Describe what you would expect such a lawyer to look like. What kind of personality do you think Remy has? How has William captured a personal side of this man?
List ways William has given this portrait a relaxed mood.
Can you see any evidence in this painting that perhaps the artist works quickly with paint, like he does when collecting bill posters for collage?
Try sketching someone you know using your non-dominant hand (eg your left hand if you are right-handed) so that your drawing looks relaxed and loose. Repeat the activity using watercolours.
---
This is a portrait of Michelle Heymen, an Australian footballer who plays for Canberra United in the W-League. She is an openly gay athlete who represented Australia at the Rio Olympics in 2016. She is passionate about being a role model for kids, and openly speaks out against bullying, encouraging young people to be their authentic selves.
Kim Leutwyler made this portrait to stimulate a conversation about inclusivity, equality and authenticity.
Things to think about and make
Has Kim included any clues to show us that this is a portrait of a football player? Why do you think she made that decision?
Looking at this portrait, how would you describe Michelle's personality? Give reasons for your response.
What evidence do you see to suggest how Kim painted the background?
Find a picture of one of your favourite sports stars. Make a drawing from the image using your preferred drawing medium. Dampen a piece of watercolour paper and apply three or four paint colours so that they 'bleed' across the surface. You might like to choose colours that are symbolic of the person. When the paper is dry, collage the drawing on top.
---
Vincent Namatjira is the great-grandson of the famous Australian painter Albert Namatjira. His style is very different to the painting style of his great-grandfather. He painted this portrait of himself '...at the end of a tough but good week working in my studio at Iwantja Arts,' he says. 'Painting is about fighting really; it's a battle you have every day with the canvas and the paints'.
Things to think about and make
Describe Vincent's brushstrokes. How long do you think it took to create this painting? Why do you think that?
What sign is Vincent making with his right hand? Why do you think he painted himself in this pose?
Consider the painting's title. How do you feel on Fridays? Why? Make a painting or drawing of yourself, expressing how you feel on a Friday afternoon. Choose colours and a style of mark-making that helps to express your feelings and mood.
Locate images of Albert's art and make a list of differences between his painting style and Vincent's.
Find out about one of your great-grandparents or another relative who you haven't met. Write a short description of them and make a portrait of them from your imagination. Add a self-portrait to the artwork so it looks like you are with this family member.
---
Lottie Consalvo and James Drinkwater are both artists and Jonathon Dalton has painted their portrait as they sit in their home.
James's painting style is very energetic and he uses lots of colours and textures. (He has a painting in this year's Wynne Prize which you might like to look at.)
Lottie's art practice involves very personal themes of deep emotions and she often expresses herself through performance work.
Things to think about and make
How is the personality of each sitter expressed in this double portrait? Describe their body language. Do you think they look comfortable? Give reasons for your response.
How has Jonathon made the sitters the focus of the painting? What has he done to the background? Why do you think he has included a telephone in the painting?
What is the effect of the painting being so large?
Place a single chair against a clear wall. Ask one of your family members or friends to sit in the chair and photograph them as they pose in a variety of positions. Choose the image that you think best describes their personality through their body language.
Create a series of six small portraits of people you know. Have each one sitting comfortably on their favourite chair. Make decisions about the composition, colours and tone of each portrait so that the portrait series looks unified.
---
Thomas Wright is an award-winning Australian actor, writer, director and producer. The artist Marcus Wills paints using a traditional oil painting style which makes the artwork look like it could have been painted many years ago. The sitting for this portrait took place at Marcus's studio where he set up a scene like a crime drama, with Thomas as the main character.
Things to think about and make
How does looking at this painting make you feel? Why? What do you think Thomas is looking at? Describe the expression on his face.
What evidence do you see of a traditional oil painting style this in the painting? What evidence shows that it is a contemporary portrait?
List the objects in the painting and suggest who might live in this room.
Imagine Thomas is acting a scene from a movie. Write a short story about how the character came to be in this room. Include the significance of some of the items in the room.
Using the short story you have written, create a storyboard. If possible, make a film, using this storyboard to guide you through each sequence. Consider the setting of the film and appropriate props. Ask friends or family to be the actors.
---
You might have seen the artist Ahn Do on his TV show called Ahn's brush with fame. He has painted portraits of many famous people. For this portrait, he has painted Jack Charles. Jack is an actor who has had a difficult life in the past. He is also an esteemed Indigenous community leader.
Things to think about and make
How has Ahn applied the paint for this portrait? Is the paint texture the same over the entire canvas? What tools do you think he used for each part?
Ahn has also tried to create textures of the Australian landscape. Identify parts of the painting that you think suggest textures of the natural landscape. Look carefully to find things Ahn has embedded into the paint. What do these make you think about?
How does the size of this portrait make you feel about Jack? What does this portrait remind you of?
Make a painting of a person. Rather than using a paintbrush, apply the paint using a palette knife or strips of cardboard.
---
Professor Gillian Triggs is an academic and international law practitioner, advising governments and organisations on human rights law. This portrait of her is semi-abstract. Yvette Coppersmith, the artist, has approached the portrait using a modernist style, partly inspired by the art of Rah Fizelle.
Things to think about and make
What features of this painting indicate an abstract, modernist approach? What parts are more realistic? How does this affect the focus of the painting?
Describe the personality of the sitter by looking at her body language and facial expressions.
Find images of artworks by Rah Fizelle. Which which features of his work can you see in Yvette's work?
Find a piece of geometric patterned paper or fabric. Using the pattern as inspiration, create a design that can be applied to decorate a dinner plate or vase. Imagine someone you know owning this plate or vase and describe why that person would like the pattern.
---
John Bell is a theatre actor, director and manager. He founded the Bell Shakespeare Company in 1990. Loribelle Spirovski paints in an intuitive style and is known for her portrait painting. This portrait was painted after Loribelle met John through her partner, classical pianist Simon Tedeschi, who had been working with John.
Things to think about and make
Describe John's mood in this painting? How long do you think it took Loribelle to paint this portrait? What makes you reach these conclusions?
What do you notice about the texture of this painting? How do you think Loribelle achieved it? Describe the difference between her treatment of the paint for the face and arms, compared with the painting style of the background and the chair.
Scrunch a piece of paper into a tight ball, and then flatten the paper out as much as possible. Using this as your surface, draw a self-portrait with charcoal and coloured chalk pastels. Make some areas very linear and other areas filled with colour and tonal values. Notice the affect of the uneven surface on your artwork.