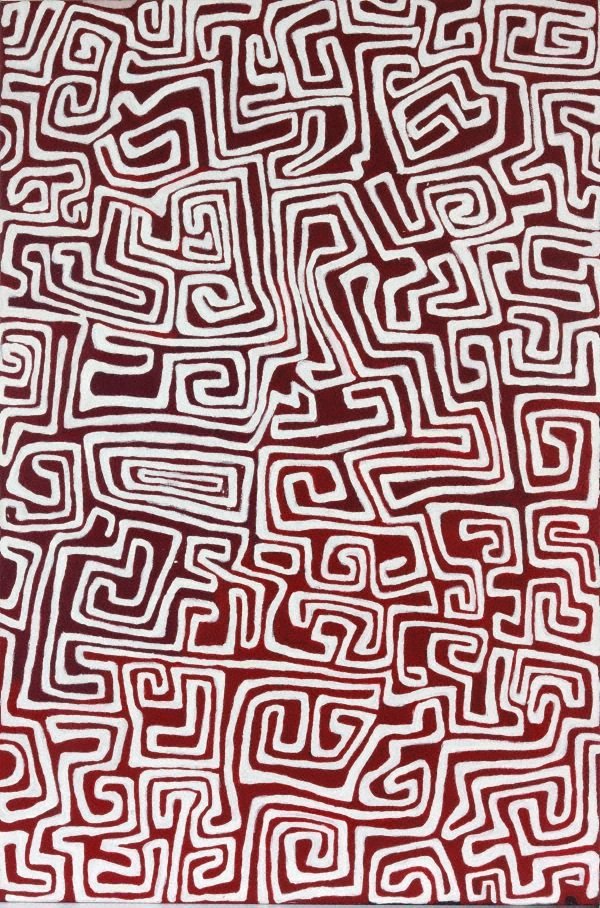 (Australia 01 Jan 1944 – 16 Feb 2010)
Community

Patjarr (Karilwarra), Southern Desert region

Language group

Ngaanyatjarra, Southern Desert region
Kaliangku
Location

Not on display

Further information

The Kayili Artists documentation for the work states:

"Kaliangku is a large freshwater claypan north-west of Patjarr. This painting depicts the coming of big rains from the north-west around Beagle Bay, south of Broome, filling up the claypans and the rivers of the Gibson Desert, 'like the sea'. Another claypan near Tjukurrla called Wananpa also fills. One rockhole called Nginga, a special site associated with rain and rainmaking is also shown."

© Australian Art Department, Art Gallery of New South Wales, 2005

Place of origin

Year

(2005)

Media

Medium

synthetic polymer paint on canvas

Dimensions

101.6 x 152.6 cm stretcher

Signature & date

Not signed. Not dated.

Credit

Mollie Gowing Acquisition Fund for Contemporary Aboriginal Art 2005

Accession number

338.2005

Copyright

© Estate of Jackie Kurltjunyhintja Giles Tjapaltjarri. Courtesy of Kayili artists. Licensed by Copyright Agency.